Australian Immigration Minister Alex Hawke has escalated the Djokovic visa saga by announcing on the evening of Jan. 14 that Novak Djokovic's visa will be suspended.
This news comes after an intense few days as the minister considered whether to invoke that power, after the Federal Circuit Court found on Jan. 10 that the federal government couldn't use section 116 of the Migration Act 1958 (Cth) to cancel his visa, because of procedural errors made by the government.
The tennis star had entered into the country Jan. 5 under the assumption that he had an exemption from the vaccination requirement to enter the country, before being apprehended by the Australian Border Force (ABF).
READ MORE: Djokovic Wins Match Against Australian Government Over Visa
Under subsection 133C(3) of the Migration Act 1985 (Cth), the Immigration Minister can cancel a visa if he is satisfied that he has grounds to suspend under section 116, and that it is in the 'public interest' to do so.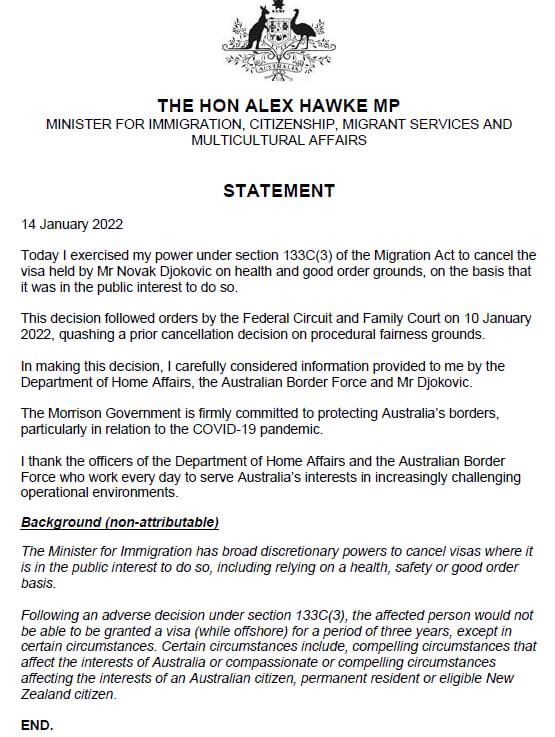 This decision was endorsed by Prime Minister Scott Morrison.
The Immigration Minister's decision is an entirely political one, and is a complete embarrassment for Australia. Rather than accepting that the government made a mistake, the Immigration Minister has instead decided to exercise his personal executive authority.
If Djokovic did not have a valid exemption to the vaccination requirement for entry into Australia, the government must answer for their original decision to grant a visa in the first place. If Djokovic does have a valid exemption, the government must answer for their decision to hound Djokovic over this. Either way, the Australian government has made a mistake, which they refuse to own up for.
The government has faced massive backlash over this issue on the domestic front. An unlikely alliance of Labor politicians, like former Prime Minister Kevin Rudd, and anti-lockdown politicians from the right, including former Liberal Democrat Senator David Leyonhjelm, have criticised the government for its failure.
The cancellation of Djokovic's visa will prevent him from defending his title at the Australian Open. In addition, it carries an automatic suspension of his visa for three years, preventing him from attending the next couple of Australian Opens. This mixing of politics and sports means that there is a very real possibility that Djokovic will lose his position as the men's world No. 1 tennis player.
On top of all this, Australia will now have to face the world after a politician exercised personal power to cancel the visa of someone who was creating problems for the government. This sets a dangerous precedent, and will lead to a diplomatic showdown. At the very least, this decision will make relations with Serbia even worse. And Australia will lose some of its prestige as an international sporting destination.
Refugee law expert Sangeetha Pillai wrote that the discretionary powers possessed by Immigration Minister Alex Hawke and Home Affairs Minister Kare Andrews are so great that they are "God Powers," and are more powerful than the personal discretionary powers of any other minister.
It is likely that this situation will open up a discussion on reforming Australia's immigration system, with the possibility for legislative changes after the next federal election, which will be held no later than May.
Djokovic and his lawyers will be fighting this decision in court, and are hoping to receive a verdict before Djokovic is set to play his first match on Monday or Tuesday night. They have argued that the minister said that Djokovic does not pose much risk of infecting others, as he was recently infected with Covid, whereas ABF officials detained him because he posed a significant risk to others, therefore making this decision a political one.
The implications of this situation could be of a similar scale to the case of Egon Kisch. Kisch was an anti-war Jewish communist who escaped from Nazi Germany and tried to enter Australia in 1934. The Australian government and border officials attempted to use the heavily racist White Australia Policy laws and the dictation test to prevent his entry into the country, and later to deport him.
The dictation test required the applicant to write a passage in any European language that the border official giving the test decided to use, and in that case, the language used was Scottish Gaelic, in order to prevent the communist from entering the country. It took two appeals to the High Court of Australia before Kisch won. The ordeal was an embarrassment for Australia, especially in hindsight, because of Kisch's predictions about Nazi Germany that came true.
The full international ramifications of this situation have not yet been felt, and won't be until the case is resolved, but regardless of the outcome, a blow has been dealt to the Australian government, mere months out from an election where Scott Morrison's government is already at serious risk of losing its bare majority in the House of Representatives.